http://www.ddisoftware.com/qimage-u/index.html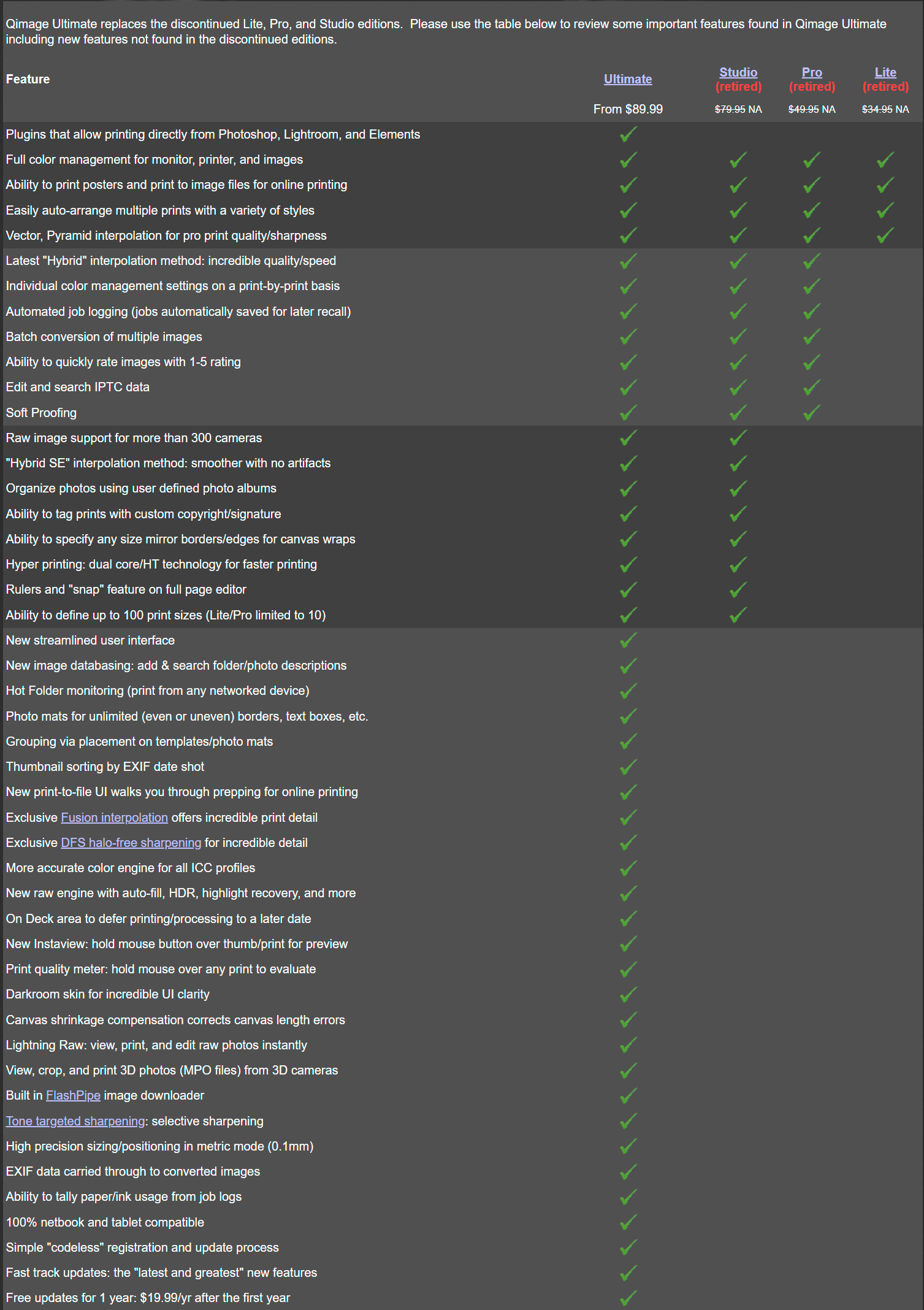 QIMAGE ULTIMATE 2022 - INTRODUCING LIFETIME LICENSES!

Upgrade your expired Qimage Ultimate registration to a lifetime license
now for the introductory price of $39.99. For the cost of only two
yearly renewals, you can get a lifetime license that never expires or
has to be renewed. Since you already own the Photoshop/Lightroom
plugins, that means you'll never have to pay for another renewal to get
the latest version of Qimage Ultimate with the latest plugins.

Of course, you can also stick with the yearly registration renewal
($19.99) if you prefer. To renew your registration via the yearly
or lifetime renewal and start using the latest Qimage Ultimate 2022
now, see the link at the bottom of this message.

New in Qimage Ultimate 2022

- Windows 11 support
- Many user interface improvements
- New (optional) UI sounds
- New Full Page Editor with many new creative tools
- New floating text tool with real time page and text view
- Updated raw photo support
- Updated color management engine
- Fixes and performance improvements

Get ready for Windows 11 and enjoy new Qimage Ultimate features and UI
optimizations by renewing now.


In Qimage Ultimate, printer driver settings were selected for paper, quality, etc. and image was printed with all program defaults.
In PS and LR, "print resolution" was set to 600 PPI to give PS and LR the best chance of matching QU using interpolation.
Identical printer driver settings were used in all programs.
Canon Pro 9000 used for comparisons, which has a native 600 PPI driver resolution.
Qimage Ultimate picked 600 PPI as the printing default because it read the native resolution from the Canon driver automatically.
LR 4 picked 240 for the default print resolution which does not match the native 600 PPI driver resolution, even in multiples.
LR 4 results at its default 240 PPI were much worse than the 600 PPI used for the above LR 4 print.
When 600 PPI was selected in LR 4, a warning appeared: "You have chosen a high resolution for printing which could cause memory issues or a failure to print on some systems". We used a small test strip in all tests to avoid Lightroom's memory issues.
No such warning appears in Qimage Ultimate with its (default) 600 PPI because it knows how to manage data for large prints.
LR warning messages aside, the above represents the best print quality possible in each application.